We unfortunately had to say goodbye to Polka Dot.
6 weeks was everything she had in this life.
I hope and believe that it was 6 good weeks.
As the others began to hear when they were 2 weeks old, it was soon clear that Polka Dot was deaf.
She seemed, however, happy and satisfied. She was very active. Wagged her tail when she saw one and played on an equal footing with the other two. Was loving and contact-seeking. Could also sit a long time on her own playing with toys in her own little quiet world.
But a life as a deaf - it's not a life to offer a dog - let alone a Dalmatian.
So Polka Dot is not with us any more.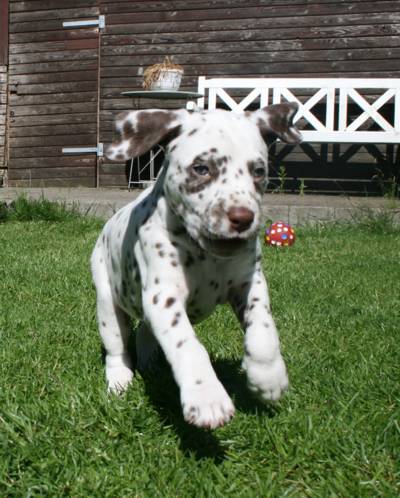 Deafness is the curse included when you breed Dalmatians.
Nevermind patch and blue eyes, etc. You - and the dogs - can live with that. But not with deafness.
No matter how many times you try it, it will NEVER be easier to say goodbye to such a small creature that never got a chance in life.