Titania is our latest new family member. She is a liver bitch born 2/2-2006 from our "guest" litter
With a little girl like that in the house happy days have arrived. And as her sister Rosy still has not left home, as her owner can not have her yet, you can imagine that you have to have an eye on each finger !
When she was 2,5 months old Titania staret in Puppy School. The puppies are supposed to have a fun time there which seems to be very important to Titania. And of course they have to learn something, too. In fact Titania is very good at that. After all, she is a Dalmatian - and this little lady will do a lot for a little treat.
Titania is supposed to have a future as a showdog, and she has not disapointed anyone in her first season. 1 x Best Baby, 3 x Best Puppy, and then her big win at the Amsterdam Winnershow in November 2006 when she - only 9 months old - was Best Of Breed and won the titles Amsterdam Youth Winster and Amsterdam Winster. We ought to retire allready because the one who flies high.......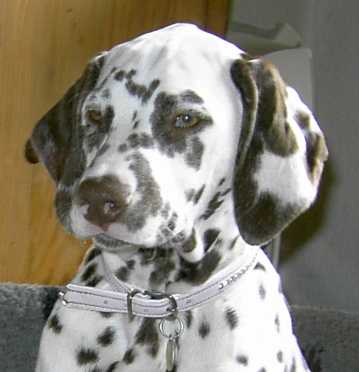 Enter this link to see Titanias show results: